Matthew d'Ancona in the Sunday Telegraph is optimistic in his analysis of Cameron's Birmingham "sorry" speech.  Matthew compares the speech to Keith Joseph's systematic attack on the post-war economic consensus, the famous speeches which were the intellectual foundation of Thatcherism. That seems to overstate things a lot.
Tactically Matthew reckons the subtext comes straight out of the Guido playbook :
Dave has the integrity to admit that he and his party are not infallible, and the self-confidence to concede error and to draw the correct conclusions. What they really mean is: in contrast to the bonkers Scotsman stomping around Number 10, shouting randomly at people like a man in a tam-o'-shanter carrying a plastic bottle of cider under the Embankment. Politics is a nasty business: the subtext "at least Dave is sane" will underpin most of what the Tories say until polling day.
Good. No amount of talk as to the merits of quantitative easing, credit flows or monetary policy will ignite passion, or hope to "seal the deal". Talk instead of the Prime Mentalist in Downing Street, who has now almost run out of people to blame, yet won't himself say sorry. Inflaming that popular anger with Gordon will "seal his repeal".  The Tories should stoke it all the way to the election.
Strategically Matthew thinks Dave has disowned the political consensus, "apologised for his part in it, and urged the voters to brace themselves for tough decisions. By saying sorry, he wiped the slate clean." Was that really clear to anyone who didn't get the CCHQ briefing?  Certainly wasn't manifestly clear to Guido.  Dave has tried for years to seize the centre-ground and up until very recently was wed to centrist economic approaches which would not pull us out of this credit crisis. The  promised return of sound money will require radical policy change, with tough choices that will be unpopular in the short term. Shattering the failed consensus will require more than fine words.
The looters are
getting excited
about the pressure being put on places hitherto out of the reach of Gordon's grasping hands – such as Switzerland. It won't work, even if Switzerland really does cooperate, the deposits will simply be welcomed to the emerging financial centres of the Middle East.
Perhaps the looters would do better to look closer to home at the onshore tax haven that is Buckingham Palace. This is one incredibly wealthy British based family that avoids taxes and scrutiny with the acquiesance of HM Government. The Windsors live in inner London, public sector housing and claim millions in benefits despite being one of the richest families in the world.
They also hide their huge private investment portfolio in a company called Bank of England Nominees Ltd, which is exempted by statute from normal financial reporting requirements. If Gordon really wants to get serious with billionaire tax dodgers, he should start with Her Majesty.
See also www.Republic.org.uk.
In
his speech last Friday
to Labour's Scottish conference in Dundee, Gordon made a toe-curling and very laboured joke:
"As you know I'm not long back from Washington DC and I said the people there that I couldn't stay long because I was off to Dundee, They asked, Dundee Michigan, Dundee Illinois or Dundee Oregon? I said the original Dundee. They asked what state was it in? It's in a great state, I replied. It's got a Labour council."
On the other hand, Dundee's woes worsened this week in that Gordon's visit was followed by local job losses at NCR and Texol.
The accursed one-eyed son of the manse strikes again…
The
Mirror
and the
Telegraph
this morning have stories about the financial difficulties of Derek and Kate Draper. The family car was crushed for non-payment of vehicle taxes, and it transpires that Kate (the major breadwinner in the family) was taken to court and had to remortgage the family home in order to pay £173,000 in back taxes. Guido has been aware for some time of Derek's financial problems – he left debts behind him in the U.S. and his lack of accepted qualifications has made it difficult for him to get NHS patients. The video business he set up to exploit the wife's celebrity is not a huge success. Draper supplements his income by writing pop-psychology pieces for the tabloids and his own brand of "insider" political analysis for the
Guardian –
remember
his warning to
"
Get Ready for a Short, Sharp Campaign
"
in September 2007? Clearly there is only limited money in his journalism because he has been reduced to doing deals selling pictures of his kids to the downmarket
OK
celebrity magazine run by pornographer
Dirty Desmond
.
What many people won't know from today's tabloid revelations is that Derek has borrowed heavily from (some now former) friends, political figures and even journalists, some of whom have confirmed to Guido that he has borrowed thousands off them – and they have had great difficulty and embarrassment in getting their money back, sometimes for years. Now he is apparently once again passing round the begging hat to raise money for LabourList, claiming the endorsement of Peter Mandelson for the website. Perhaps he can call on Mandelson's blind trust to help him out?
UPDATE 20.00 :

Derek says the above is a pack of lies and libelous. Which is what he said about the

"not at Berkeley in Berkeley"

story. He is threatening to sue, again. He won't. Again.

Same old Derek, same old spin.

UPDATE 21.00 : "I have excellent qualifications as a psychotherapist including an MA in psychology and another MA which I am about to receive from a very distinguished UK institution." If, and Guido means if, you already have an "excellent" MA in psychology, why do you need another?
Jeff Randall in the Telegraph nails it:

Q:

What's the difference between Bernard

Madoff

and Gordon Brown?

A: One has drained fortunes from gullible victims, plundering their income and savings to create an illusion of prosperity. The other is going to jail.
Madoff, unlike Brown, has apologised.
From Hansard during the Baby P / Laming Report debate this afternoon:
"I do not want to

throw out the baby

with bathwater here, which is why it is important we do this properly. The social work taskforce will take this forward."
Bad choice of phrase Blinky….
Some people have said that Labour nicks all the Tories best ideas, so the Tories are wise to keep their manifesto plans under wraps.
It certainly looks that way, after Post Office privatisation was taken up by Mandy, one waggish Tory MP welcomed Mandelson to the Thatcherite wing of the Conservative Party.
An eagle-eyed co-conspirator draws attention to the document at Mandelson's feet after he was gunged outside the Carbon Summit. It looks like the Tory environment policy paper.
His chosen reading explains a few things.
[…]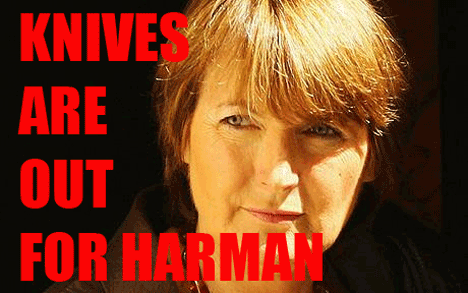 Harriet is protesting that she is loyal and loudly asking
"who is briefing against me?"
The Brownies of course – that is their stock in trade. A little snippet appears in the
FT
under Sue Cameron's byline – though the
[…]
The government plans to establish online feedback to rate public services – GPs, police, childcare and councils. It will, they spin, be like
TripAdvisor.com
for the public sector. The Tories say it is just a gimmick. Guido thinks it has
[…]