This was found blowing around on Whitehall outside the Treasury:
Click to enlarge
Hat-tip : Paul Myners
Gordon's visit to Southampton is not without casulties:
42 dock workers are to be axed at ABP … equivalent to 10% of the workforce … from across all sectors and will include senior managers … Trade in key areas has "dropped like a stone"… The jobs blow comes hard on the heels of a succession of bad news for hard-hit dockworkers and just days after Prime Minister Gordon Brown hailed the port as "one of the most important parts of the economy"

A worried student co-conspirator has just emailed:
Dear Guido,
Just thought you might want to know Gordon turned up unannounced at Oxford University today to deliver the annual Romanes lecture, titled 'Science and the Economy'. Despite beginning by talking about the fact Gladstone put more effort into researching and writing his Romanes Lecture than anything else he did in his life, Gordon's lecture was the dullest of SpAd-written drivel. He also told a completely bullshit story about Einstein and his chauffeur (debunked here), even having the cheek to set it in Britain, adding to the lie. Finally, and no doubt striking fear into the heart of the audience, he invoked the curse of Jonah by praising Oxford's scientific achievement and hoping it continues into the future. Will we ever discover anything again? I'd be surprised if the University's still here this time next year after that endorsement!
Guido will be cheering Ireland on in the rugby tomorrow. England fans should note that on Wednesday the England rugby team visited Downing Street. Diplomatically he didn't wish them luck (Scotland are in also in the six nations).
But frankly the Jonah curse is on our side…

Prescott was on the
Today
show this morning complaining about Fred the Shred's pension
"rewards for failure"
.
How ironic that this is in fact an area of particular expertise for Prezza.
When he was sacked as Deputy PM, for generally being an embarrassing incompetent, he kept hold of his pension perks – including additional pension contributions from taxpayers even though he wasn't working for them. Blair even let him keep two grace-and-favour homes, while stripping him of his departmental responsibilities. At the time opposition politicians railed at Prezza's "rewards for failure".
Lord Oakeshott, the LibDem pensions spokesman, said at the time: "First it was two Jags, then two pads. Now it seems we have two pensions Prescott. No fat-cat director in the private sector would dream of awarding himself such a generous pension for a part-time job."
Chris Grayling accused Blair of misusing taxpayers' money by keeping Prescott in government, said: "Just this extra pension cost to the taxpayer of keeping John Prescott in his position could have paid for four additional nurses. That is without other trappings such as his official residence and his ministerial car."
Even Labour MPs like Geraldine Smith were stunned; "I think it is outrageous that the Deputy Prime Minister loses his department but keeps his position, his salary and the perks of the job. It seems absolutely astonishing."
Prezza's pension pot makes him a multi-millionaire, courtesy of the taxpayers.
UPDATE : It is satire that writes itself to know that Lord Myners of Short Selling chaired what was known as the Treasury's "Myners Review" into the good governance of pensions.
Guido can't help thinking that the row over Fred's £8 million pension is a contrived bit of spin to distract headlines away from the £300 billion bet that HM Treasury is taking on RBS. Frankly Fred's £8 / £16 million is neither here nor there in comparison to what the government is committing the taxpayer to underwriting.
If this goes pear shaped Iceland will be nothing in comparison.
Usually the convention is that a PPS who opposes a government motion resigns for the reason that technically they are part of the government, even though they are unpaid. The
FT's
Westminster blog
lists ten PPS who have signed the EDM opposing Mandelson's plans to make the Royal Mail pay:
David Wright (PPS to John Hutton), David Anderson (Bill Rammell), Claire Curtis-Thomas (Baroness Scotland of Asthal), David Hamilton (Ed Miliband), Mark Hendrick (Jack Straw), Stephen Hesford (Vera Baird), Sharon Hodgson (Dawn Primarolo), Ashok Kumar (Hilary Benn), John Mann (Tessa Jowell), Stephen Pound (Stephen Timms)
Laura Moffatt is a former PPS to Alan Johnson, her opposition might be a sign of where he really stands. Nick Brown, Gordon's long time henchman and now chief whip is also said to be not keen mon the bill. It is getting a bit like the dying days of the Major regime when euro-sceptics openly defied the government…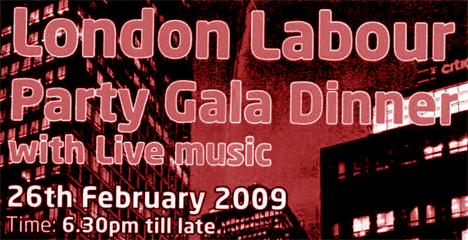 Crisis, what banking crisis? Yesterday the City minister Lord Myners was
showing off his art collection
to the Labour glitterati, tonight John Prescott will be in the heart of the financial district partying with the rest of the London Labour Party to raise money from bankers at a £500-a-table
"Gala Dinner"
For public consumption Labour are bashing the bankers whilst privately they will be dancing to their tunes, still hoping to tap them up for donations. Tonight's gala venue is next door to Lehman's building in Canary Wharf, so perhaps they won't raise quite as much money as they hope – particularly since any bankers still with jobs are unlikely to have cash to spare from non-existent bonuses. Unless of course you negotiated your exit package with Alastair Darling, in which case you are sorted for life…
Baron Myners said recently "I have met more masters of the universe than I would like to, people who were grossly over-rewarded and did not recognise that. Some of that is pretty ­unpalatable. They are people who have no sense
[…]
This was sent around Labour PPS's by Dave Anderson, PPS to Bill Rammell at the FCO. N
ote he says the issue is as important as the 10p tax issue.
Dear Colleague

In discussion with other colleagues I am aware
[…]
Guido's sympathies are with the Camerons. However cancelling PMQs is not the right response. The show must go on, every week the names of sons who have fallen in Afghanistan and Iraq are read out and sympathies are offered.
Democracy
[…]