Neck and neck…
In the hands of the undecideds…
The gap between the Tories and Labour on trust on the economy has widened by 22% since Ed Balls became Shadow Chancellor. In March 2011, two months after Miliband gave Balls the job, Ipsos Mori had the Tories three points ahead at 31% to Labour's 28%. Today they report the Tories are now up at 45%, while Labour have sunk to 20%. Who would have thought putting the two closest advisers to Gordon Brown in charge of Labour's economic strategy would result in a lack of trust from the voters?
The TNS midnight embargo has been busted so here are the results of their poll out tonight, not including don't knows: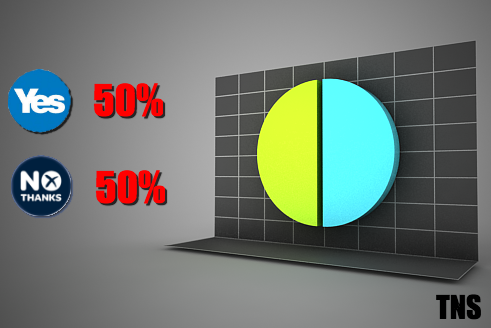 YouGov wasn't an anomaly…
Last week Guido pointed out the negative impact that the former Prime Mentalist was having on the No campaign's poll ratings after getting involved late in the referendum. Yesterday's YouGov bombshell shows the Jonah effect with even greater clarity. While many may dismiss this a terrible coincidence, they should note it is Scottish Labour support that is haemorrhaging to the optimism of the Yes campaign.  These are precisely the people to whom the former Prime Mentalist is talking. 
The good news for fighters for Scottish freedom is that Better Together have decided to deploy Gordon and both Ed Miliband and Ed Balls this week. ALBA GU BRÀTH! 
Carswell hold…
A YouGov poll for the Times RedBox finds that 71% of the country think that (former) Labour South Yorkshire Police and Crime Commissioner should resign.
Interestingly the poll finds that now more than half of the country "have little or […]
The Blurrt worm has spoken:
Salmond wins.
Via @David_Taylor
UPDATE: ICM call it for Salmond 71% to 29%. Also known as a total thumping. […]
At the end of July Labour launched their summer offensive, drawing up the battle lines for next year with the catchy slogan: "The Choice: The Labour Future, The Tory Threat". Well, after three weeks of shadow cabinet speeches up […]
UPDATE: Guardian exit poll says Darling beats Salmond 56% to 44%.[…]