Warning, this is as yet unconfirmed.
Grassroots comments on LabourHome suggest that Labour activists would be happy to see the back of Damian McBride.
Charles Clarke calls for McBride to be sacked.
Derek Draper has admitted that Mcbride told him what to write in order to contrive a smear of Iain Dale and Guido on his "independent" website – something he lied about to Iain and live on the Daily Politics when we debated.  Fancy that, Derek Draper is a self-confessed liar.
Damian McBride is desperately trying to throw a smokescreen up tonight with a planted frontpage story in the Telegraph which downplays what he has been up to.  Andrew Porter, the Telegraph's lobby correspondent, is Damian McBride's  regular drinking companion and tame mouthpiece, so it is no surprise whatsoever to Guido that the Telegraph is being used by Downing Street for damage limitation.
The Telegraph implies that Guido has sold the story to the Sunday newspapers – that is completely untrue – Downing Street tried that same line against the Home Office whistleblower.  They are also trying to make out that the story is just about Damian McBride sending gossipy emails to his pal Derek Draper.  Utter lies.
Damian McBride did however in fact write the LabourList article for Draper to use to smear Guido and he also did the same for smears against Iain Dale.   Draper merely cut and pasted them on to his "independent" site.   That is just a relatively minor aspect of the bigger story, but it is how Guido came to learn more of the full story.  The Telegraph doesn't have a fraction of the facts – laughably they don't even name McBride in their story – they really should have given him the byline.
Downing Street under Gordon Brown has been particularly vicious in smearing opponents.  Other well known Labour insiders besides Damian McBride – including a government minister – are involved in the operation.  Guido has hard evidence that Tory MPs have been smeared, and that a particularly vicious concerted smear operation was mounted against George Osborne, smears that Damian McBride – a civil servant – knows and admits in writing are untrue, yet he was still instrumental in spreading.  Some well known lobby journalists have knowingly gone along with it.  This is a lot bigger than some minor bloggers spat.
Downing Street are deliberately trying to make out that this is just another round in the Draper v Guido battle – that is why the Telegraph have slanted their story in the way they have.  It isn't.  It is about a poisonous long term smear operation based in the heart of Downing Street and run by the prime minister's press and political adviser, Damian McBride.  Names will be named and shamed…
+++ Developing +++
UPDATE : The BBC have an anonymous Downing Street source claiming that no-one else in Downing Street besides Damian knew about all this – simply not true and contradicted by the evidence.
Tom Watson is the MP who led the plotters putsch that was the prelude to getting rid of Blair – his reward is to now be ensconced in Downing Street.  There he spends his time briefing,  with a breathtaking level of mendacity,  against any who dare to threaten Brown.  He is intensely proud of his reputation as a loyalist enforcer.  If only he knew that Tory strategists cheerfully toast Watson's name in thanks for his part in getting rid of the thrice-election-winning Blair and replacing him with the voter repelling Brown.
Watson also had a hand in the brutal briefing against Stephen Carter, who was brought in to bring some light into the bunker after the disastrous election that never was debacle.  The dark arts were wielded against Carter and he was successfully turfed out of Downing Street within a year by the jealous old guard in the Brown bunker.
Watson is now the Minister for Digital Engagement – he is a Twitterer and blogger too.  It is from his blog we learn that he has been reading Mudslingers: The Twenty-five Dirtiest Political Campaigns of All Time. The blurb says "the political historian who is intrigued by the down right nasty will be interested in Mudslingers" – that would be Watson alright.
If you want an indication of what kind of electoral strategy they are planning in the Brown bunker, here is clear evidence.  The general election is going to make Crewe and Nantwich look like a schoolgirl's playground fight.  They are intent on a dirty, smear filled, personalised, negative, divisive political campaign that will reach a new low in British politics.  Look at the people who are at the heart of the Brown bunker – brutal, malevolent, mendacious unpleasant-to-the-core people like Tom Watson, Ian Austin, Nick Brown and Damian McBride.  They have no coherent positive strategy, they only have political poison to offer.  It won't work…
Mayor Boris confirms the replacement.
UPDATE : Quick has not resigned from the police service, he remains on full pay and keeps all his entitlements and pensions despite what is technically a breach of the Official Secrets Act.
UPDATE II 09.30 : Sky News reporting he has resigned from the Metropolitan Police. How un-New Labour, to do the honourable thing.   Did Boris push him?
UPDATE III 10.20 : Boris Johnson said "I have this morning with great reluctance and sadness…… accepted Bob Quick's resignation as head of counter terrorism".  Guido was unable to reach Damian Green for comment.

Nick Clegg had his constituency home renovated at our expense and claimed 100% of the maximum allowed expenses last year, so perhaps he has a guilty conscience. Nevertheless he has come up with some good reform proposals that most voters would welcome:
MPs would no longer be able to claim for mortgage interest payments, only rent.
MPs should be forced to sell their second homes and return profits to the taxpayer.  They would be given 36 months before Parliament refused to fund their mortgage interest payments. A proportion of the capital gain profits would have to be returned.
Clegg's proposals would also see an end to taxpayers picking up the bill for flat screen TVs, furniture, building work and taxis.  Just utility bills and council tax would be paid for by the taxpayers. Mr & Mrs Balls, Mr & Mrs Keen, Mr & Mrs Winterton and Mr & Mrs Robinson would only be able to claim half each.  Guido's heart bleeds for these millionaire troughers.
The Times reports that hair shirts would become compulsory wear:
Ministers with grace and favour accommodation, such as the Prime Minister and Chancellor, would not be allowed to claim rental on any additional property.  On travel, MPs would be permitted standard open return tickets when travelling to and from their constituencies. MPs' salaries would not be raised while the country is still in recession.

Mr Clegg told The Times: "It is easy enough for politicians to talk about how the current system for pay and expenses needs to be changed, but what people want to know is what we are actually going to do about it."
On the whole this is a basis that many would see as fair and in line with best practice in the private sector.  Guido would also like to see a "no receipt, no claim" system – as all of us in the private sector work on that basis – HMRC doesn't believe taxpayers are honourable and the taxpayers no longer believe members of parliament are honourable.  Cameron's proposals are expected next week, they should be no less stringent if he wants to be credible. The parliamentary gravy train needs to be halted…
In case you are wondering why Guido has yet to name and shame some more scamming MPs, it is not for lack of will.  They are being elusive – genuinely on holiday in some cases.   Would like to hear their explanations before putting them in the stocks.  Though am close to just outing without speaking to the MP who boasted he had 400,000 airmiles as a result of junkets and wouldn't have to pay for his family holiday. 
You, know who you are…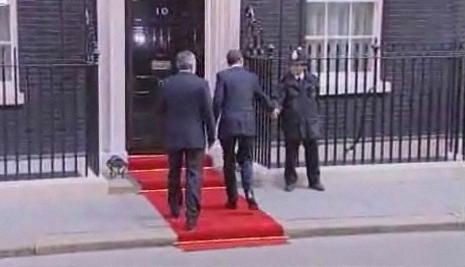 Police brutality is in the news again.  Here is Gordon being brutal towards a copper.  How can anyone watching this (video here) not think Brown is socially autistic?  The Prime Mentalist is an emotionally retarded weirdo.[…]
The Irish budget yesterday was a tough  budget.  The type of budget that in reality Britain needs to implement to get the economy back on track. Welfare cuts and tax hikes are never popular moves. Brian Lenihan, the finance minister, […]
Guido is digging into a whole new seam of scams that have come to his notice. MPs are renting out buy-to-let properties that they own, to members of  their own staff, to whom they authorise payments out of parliamentary […]
Guido's old friend Steve Morgan is not completely finished. Morgan Alllen Moore may have closed down, but you can't keep a bad spin-meister down. The man who told his local paper he was the international spokesman for Obama, has a […]