Guido's Geoff Hoon story from
earlier last week
has made it to the
Mail on Sunday
, where it is used to illustrate the hypocrisy of the political class. Hoon bought his daughter private tutoring in interview technique to successfully give her a better chance of winning an Oxbridge place at a time when Brown is, we learn from the
Observer
,
bringing back Alan Milburn, to
"undertake a review of obstacles faced by poorer children seeking to enter careers such as law, medicine and the media"
in order to promote social mobility. Chris Grayling hits Hoon on the head,
"Time and time again we see double standards from Ministers. They want to change the rules to make it tougher for everyone else while enjoying all the perks for themselves and their families."
Guido understands that Hoon desperately tried to kill the story with a threat to go to the Press Complaints Commission for breach of privacy.
Guido thinks politicians (and candidates) should not be allowed to claim privacy protection, all their behaviour as public office holders and aspirants should be subject to scrutiny in the public interest. We need to know if they are hypocritically extolling one law for us and another for themselves. Which of course Hoon is guilty of here without a doubt, just as Gordon was when he got private dental treatment.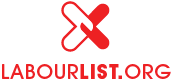 As Guido exclusively revealed (and named)
here
last month, Draper's
LabourList
has finally soft launched. The grand launch was scheduled for Monday, however that clashed with Gordon's Downing Street Jobs Summit, which meant that it didn't fit on Mandelson's media grid, so it was shunted back another month. That in a nutshell is how you will have to view the operating basis of the site. It is a party controlled forum, unlike
ConservativeHome
, which is a party supportive site. This is going to be a much more controlled environment than
Labourhome
, which for all its faults, was also more grassroots orientated.
Therein will be LabourList's major structural fault, however much they may deny this, it is a top-down tool of Labour HQ. On the right ConservativeHome scares, irritates and frustrates CCHQ, Dale is his own man with his own loyalties and Guido is on the whole contemptuous of CCHQ. LabourList will be far more on message. That is deep in New Labour's DNA.
Guido wishes it well, Labourhome has never really found an editorial direction, LiberalConspiracy still has promise, even if it will never have broad grassroots appeal or the focus of a party structure to sustain itself. LabourList does seem to be heavy with a lot of the same old faces, with no pesky loony lefties, so it is hard to see it being that exciting. We shall see…
UPDATE : Dale has similar thoughts.
Does the French Justice Minister Rachida Dati look like she is just returning to work this week a mere five days after giving birth to a baby girl?
In a chic black suit and killer high heels, the 40something minister was at a cabinet meeting at the Elysee the day that she walked out of a Paris maternity clinic.
Not sure this is all necessarily for the best, but all credit to her for looking post-nataly fabulous.
The
Tory Bear
blog ran a story about a Tory student, Matt Lewis, going to a "bad taste" fancy dress party as Madelaine McCann… you can you guess where this is going… the tabloids have gone into full on outrage mode.
Did he really cause any harm or hurt? Only the reporting of it could have hurt the parent's feelings. Caroline Spelman, the party chair, says Matt's behaviour is
"totally unacceptable"
and confirmed that he had been expelled.
"This offensive behaviour is not only shocking but intolerable and completely unacceptable,"
she said.
"There is no place for this sort of person in the party."

There is however a place at the top of the party for someone who fiddles her expenses to pay for childcare at the taxpayers expense.
For a moment after Glenrothes it seemed Gordon's personal reverse midas touch had been lifted, he even wished Lewis Hamilton good luck and he still managed to win the F1 Grand Prix.
However the new year has shown the curse to be as strong as ever.
The signs are the curse is back, big time, here are two examples. At a news conference last month with Salam Fayyad, the prime minister of the Palestinian Authority, Brown spoke before the opening in London of a two-day Palestine trade and investment forum, saying there were "considerable opportunities" for economic partnership between Palestinians and the UK, "The UK enjoys a close relationship with the Palestinian people and I hope today's conference will cement this. I hope in the coming days we can move further and faster towards the peace settlement that everyone wants to see happen," he said. Whoops.
This Sunday the Observer reported "Brown is studying a scheme pioneered by Nissan to avoid redundancies in manufacturing, which would see ailing firms given government funding to move staff on to part-time working and use the remaining time for training." Last year Jonah Brown met Nissan chief executive Carlos Ghosn to discuss job creation.
Inevitably yesterday "Car manufacturer Nissan has announced it is to axe about a quarter of the workforce at its Sunderland plant. The company, which sent workers at the site home early before Christmas to cope with the economic downturn, said it will cut 1,200 jobs." The curse of the One Eyed Son of the Manse is back. Email Guido any more examples.
UPDATE : A bean-counting Brummie co-conspirator emails to tell of the consequences of a visit from Jonah and Yvette Cooper.

The Dear Leader visited our Birmingham offices in October to discuss the Credit Crunch. Two floors in the same building were destroyed by arsonists yesterday morning. So instead of rebuilding confidence in the financial system, we're rebuilding our office. Thanks Gordon.
Jonah opened the Lehmans HQ in London and look what happened to them. KPMG got off lucky.
Simon Hughes Shadow Secretary of State for Energy and Climate Change –

sideways since he had nothing to do as no longer party president.

Steve Webb Shadow Secretary of State for Work and Pensions –

sideways.

David Heath Shadow Leader of the House –

return of euro-rebel

Jenny Willott Shadow Chancellor of the Duchy of Lancaster –

pad out the female count

David Howarth Shadow Secretary of State for Justice –

promoted

Lynne Featherstone

"to oversee the party's online campaigning"

.
Susan Kramer "has chosen to leave the shadow cabinet to take up a new role leading the party's campaign against the expansion of Heathrow Airport."

Hmmm.
The most interesting move is John Sharkey, Clegg's communications director, he has been appointed Deputy Chair of the General Election campaign.
"He will work closely with Lord Rennard, Chair of the General Election campaign"
.
He will try, with Chris Fox, to shift Rennard into the 21st century and focus more on broadcasters than Focus leaflets.
Bank of England cuts rates half point to 1.5%, the lowest rate in over 300 years.
Is it because we have the
economy
best placed in the world to weather the recession?

UPDATE :
Am particularly impressed with the insight
[…]
Anatole Kaletsky, who incidentally has been telling his readers to buy shares for two years, has flipped. This morning he is calling on policy makers to
Punish savers and make them spend money
.
He wants to tax savings.
He
[…]
Cambridge educated Geoff Hoon was leaving nothing to chance with his daughter's own entrance interview. A co-conspirator was surprised to see him back in November (Sunday, 23 November 2008) at the expensive Interview Preparation Day held at King Edward VI
[…]
The London
Evening Standard's
Paul Waugh is
reporting
that Spelman will be cleared of wrongdoing over her taxpayer funded nanny.
If, as sources claim, the Lyon inquiry reports that there is no evidence of deliberate wrongdoing or a breach of
[…]