Tribune's
Rene Lavanchy
reports back
from yesterday's official press launch of DraperList, where Draper lost the plot shouting at the
Guardian's
David Hencke
"Justify the headline in that fucking story! Go and change it before you become the laughing stock of the lobby!… Doing Guido Fawkes' dirty work…"
In the Independent this morning the headline is

Sparks Fly as Draper Meets his Tormentor


By Henry Deedes

Derek Draper yesterday became embroiled in the sort of fracas Westminster hasn't seen for many a year. The editor of the much-vaunted DraperList website was hosting a "Bloggers Breakfast", an event aimed at discussing Labour's internet strategy attended by Peter Mandelson. Proceedings were civil until The Guardian's political journalist David Hencke entered the fray.

"Draper squared up to him, jabbing his finger, insisting he'd end Hencke's career," says an onlooker. "It was quite nasty." The row was about a Hencke piece accusing Draper of "spinning" his qualification to imply that he had obtained an MA in clinical psychology at the world-renowned Berkeley branch of the University of California. Draper went to the Wright Institute in Berkeley.

Draper, a qualified psychotherapist, rebuffs the claim. "People can say what they like about my politics but if they question my professional reputation it is more serious," he said. "It made me angry and I didn't have a problem with showing it."
One account says that Draper had to be restrained by a horrified Labour press officer. Now what was it that Draper told that blogger's fringe meeting at the Labour Party conference last year? The quote was:
"

If you want to be a superstar blogger and get the headlines yet lose Labour the election, you can just f**k off.

"
Psycho-therapist heal thy self.
Guido has more bad news for Derek – Guido has more evidence coming that Draper has misled people as to the source of his qualifications. Come on Derek, serve that writ or "you can just f**k off."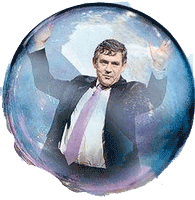 Canada, alone in the industrialised world, has not faced a single bank failure, has no need for a bailout or government intervention in the financial markets. According to the
World Economic Forum
, Canada's banking sector is best placed to weather the global financial turbulence (which apparently began in America).
Gordon Brown's Britain is ranked 44th.
Dave has just told
LBC Radio
:
"I think it is also important that the arrangements that we go into, we can explain them in a reasonable way to a reasonable person, and they would think that we were being reasonable. I don't think her arrangements really pass that test."
On the subject of her claiming her main residence is her spare room Dave said:
"I do think it is a little bit hard to believe, but she has now got to defend it in the court of public opinion."
She may have trousered £116,000 but Guido thinks it will cost her the parliamentary seat.
David Hencke has got Draper
to admit
that contrary to the impression he gave him for a recent
Guardian

profile
, his qualification comes not from the world famous Berkeley, but from a small private institution called the Wright Institute in California.
According to the report

Unlike Berkeley, the privately owned Wright Institute, according to its website, does not offer full-time degrees. Instead it is aimed at graduates who want most of the week off for other activities. It says: "Our new masters' programme is designed for students who want a high-quality graduate education and prefer to attend classes on weekends only."
This course is remarkably good value by American standards, for just $6,525 you too can get a masters…
UPDATE : Draper says this morning that he didn't go on this particular course, his course was full time. He says he never said he studied at Berkeley, University of California, he said he went to Berkeley, California. To study. Different you see. Yet on his professional website it mentions nowhere that he studied at the Wright Institute, just "Berkeley, California". It is all the Guardian's fault and he is going to sue. Stop digging Derek. You will be laughed out of court.
Derek Draper boasts of having an M.A. in Clinical Psychology, Guido wondered if his education could perhaps be applied usefully to the occupant of No. 10, Downing Street. So Guido thought it would be a bit of a laugh to track down Derek's Master's dissertation and see if it had any pearls of wisdom that could be applied to the state of mind of the Prime Mentalist.
A quick bit of Google research brought up a recent profile (July) and biography in the
Guardian
written by David Hencke
.
In the largely sympathetic article we learnt that Derek is a reformed character and no longer the legendary unsavoury spinner. Even a bitter old foe like Roy Hattersley has been won round:
He is Like a Character in a novel. There is always a whiff of danger because you don't know what he is going to do next

The spin doctor turned psychotherapist has returned to the Labour fold … Hattersley, who recently lunched with Draper, says:

"I believe he is now a changed man. He's got older, is more measured. I don't whether it is because he is now a psychotherapist or his marriage but he has changed. He will be an asset to the party."
Helpfully the Guardian biography includes his CV:

Born August 15 1967 in Chorley, Lancashire

Education Southlands high school, Chorley; University of Manchester, economics; University of California, Berkeley, MA in clinical psychology

Family Married to GMTV presenter Kate Garraway. One daughter

Career 1990-92, constituency secretary to Nick Brown; 92-96, researcher for Peter Mandelson; 96-99, director of lobbying firm GPC Market Access. Briefly a columnist for the Express and presenter on Talk Radio; Currently a psychotherapist with a practice in London.
Having now discovered where he got his qualifications Guido contacted the registrar of the prestigious Berkeley campus at the University of California to track down the dissertation. He, and the academic librarian, were unsuccessful in finding the dissertation. Strangely the registrar could find no actual record of a student called Derek Draper:
Because the information you provided did not match any records in our database, we asked the school to research your request. The school was unable to locate either a degree or enrollment record for the subject of your verification request.
Nothing. Derek Draper never studied psychology at Berkeley, University of California.
His professional practice
website
implies he did, though if you read it carefully it says
"in"
rather than
"at"
.
Like all good
"celebs"
Draper has an agent, the CV he sends out to potential bookers says, you guessed it; Berkeley, California. The truth is that a leopard can't change its spots, he learnt how to spin from Mandelson, like his master he can't help himself. Derek Draper wants to be Labour's answer to Iain Dale, instead he seems more like Labour's version of Jeffrey Archer.
A fantasist who exaggerates himself for his own psychological reasons.
In a step which Guido self-consciously saw as a bit too
"Westminster insider",
the producers of Westminster's answer to the Oscars, the
Channel 4 Political Awards
, asked him to pre-record some pithy comments about the nominees. The idea being presumably that when Jon Snow says
"and the nominees are…"
they go to video with the names, plus a few talking heads handicapping the runners and riders before the envelope is finally opened and the announcement made followed by gushing luvvie acceptance speeches.
Despite generously taking the time out to doing the filming, Guido is clearly too far below the salt to be invited to the actual ceremony itself. Or possibly it is because he said in one of the intros something like

"I have known John Bercow for 20 years, he is ambitious, articulate, a talented performer in the chamber, there is only one problem with him – he is a shit."
The Channel 4 producer nearly choked, Guido's invitation to tonight's cermony never arrived…
UPDATE :
Not a mention of MPs expense fiddles.
Anyone would think they are all at it…
If today Dave doesn't bring up the issue of MP's expense fiddles, many ordinary viewers of the TV highlights will take the conspiracy of silence as a clear signal that
"they are all at it"
.
The silence of the
[…]
The Miliband led foreign policy has taken
a quirky turn
. Britain used to send navy gunships to foreign lands that were becoming troublesome. Now the Foreign Office buys local television advertising space pleading
"don't attack us."
Soft power versus
[…]
The Parliamentary Standards Commissioner told the
Centre for Open Politics
he can't accept the evidence of a newspaper article alone. Well how about Jacqui's own words?
It ain't over till the fat lady sings…

[…]
From Jacqui's own website (www.jacquismithmp.labour.co.uk/biography):

Can the taxpayers have their £116,000 back please?
Hat-tip : Old Holborn
[…]